Company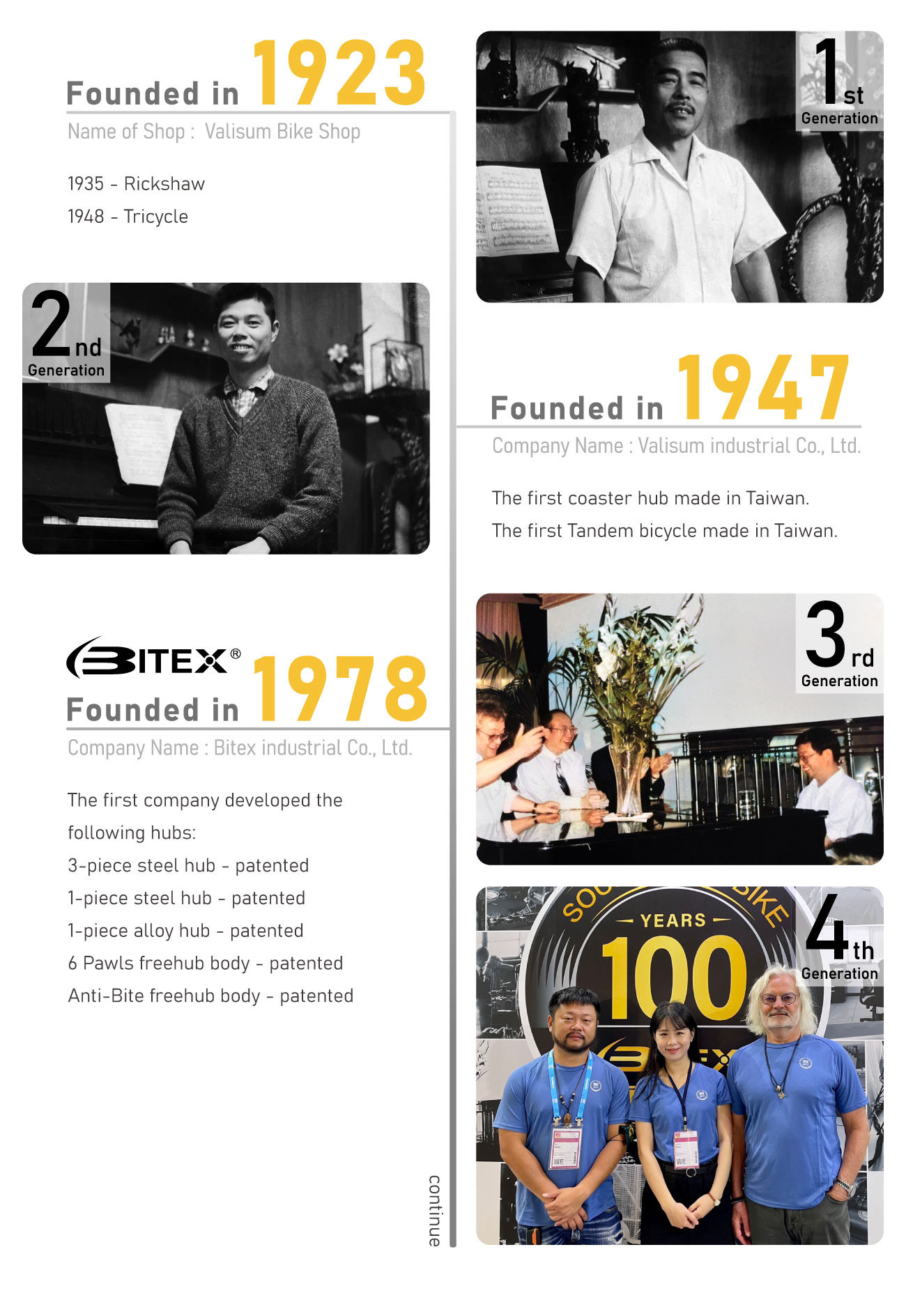 ---
Service :
The hub is important because it is the main weight-bearing component of the bike. The weight of bicycle and the rider, with all the rolling forces, bear down on the hubs. Amid todays varied and demanding bicycle-performance requirements, Bitex makes a wide range of bicycle hubs that offer:

• Superior strength & stiffness
• Longest lasting durability & reliability
• Lightest weight
• Smoothest rolling performance
• Best value
• Finest finishing colors
Acerca de Bitex
Historia
1:Fundada en 1923: Primera Generación
Nombre del Negocio: Valisum Bike Shop
Los primeros en ofrecer:
Rickshaw: 1935
Tricicletas: 1948
2: Fundada en 1947: Segunda Generación
Nombre de a compañía: Valisum Industrial Co. LTD
La primera compañía en desarrollar las mazas Coaster.
3: Fundada en 1978: Tercera y Cuarta Generación
Nombre de la compañía: Bitex Industrial Co. LTD
La primera compañía en inventar las siguientes mazas:
* Maza de Acero de 3 piezas - Patentado
* Maza de Acero de 1 pieza - Patentado
* Maza de Aleación de 1 pieza – Patentado
La maza de una bicicleta es de suma importancia ya que sostiene el peso de la bicicleta y del ciclista, junto con todas las fuerzas del pedaleo y rodamiento de las ruedas.
A pesar de todos los exigentes requisitos que hoy en dia existen en la producción y rendimiento de las bicicletas, Bitex manufactura una amplia gama de mazas para todo tipo de bicicletas, en la cual ofrecemos:
* Alta resistencia y rigidez
* Durabilidad y Fiabilidad
* Peso ligero
* Alta calidad de baleros con suaves rodamientos.
* Precios competitivos
* Mejores colores de acabado
---

Contact Information:
BITEX INDUSTRIAL CO. LTD
旺輪工業股份有限公司
Address : No.48, Ln. 29, Fongming St., Situn Dist., Taichung 40744, Taiwan
中文地址: 40744 台中市西屯區逢明街29巷48號
Tel: 886-4-2452-7696
Fax: 886-4-2452-7096
Min Hsieh / E-mail : min@bitexhubs.com
---
AMERICA OFFICE ( English and Spanish are available! )
Contact : Mr. Stefan Hernández
E-mail : stefan@bitexhubs.com
---
Address : No.140-1, Nanmei Ln., Hesheng St., Shigang Dist., Taichung City 42254, Taiwan (ROC)
中文地址: 42254 台中市石岡區德興里和盛街南眉巷140-1號。
Tel: 886-4-2581-0160
Fax: 886-4-2581-0106
May Hsueh / E-mail : bitex@bitexhubs.com